Water leakage is possibly one of the meanest that could happen during monsoon. The wonderful season of romance does have its ugly side and I am sure everyone just prays that they don't have to deal with this part of monsoon.
I remember last year we visited my native place somewhere close to the end of monsoon. Now let me tell you that the house was vacant for quite some time now and thus when we reached, we were in for a shock. The house was damp with seepage at places. The roof had completely gone for a toss.
It was then that we realised that maintaining a house is difficult and even so during monsoons. And it's not like these things happen when the house is not well taken care of, it could happen to any house. Suddenly the vacation went for a toss and we got busy in fixing the house.
Luckily we don't live on the top floor in the city, the people living on the topmost floor often complain about seepage from the terrace. I used to always think that they exaggerate but when i saw the same thing happen to my house, i did realise that maybe they had a point. When we got back to the city, i visited the top floors and to my surprise, they weren't exaggerating at all. I could see the cracks and the places that they had fixed during monsoon to avoid water seepage.
I wondered how anyone can live in a house that has water leakage. And getting these cracks fixed is an annual routine for a lot of people, but people like me who don't live on the top floors are generally unaware of this.
There however are some few easy things that we can do to make sure that our house is clean and damn free.
Adding bring, vibrant and cheerful colours to your home decor can help make the house feel more monsoon ready. It will help take the gloomy weather out of your house and thus making it a happy place even when the weather outside is just dark and gloomy.
Picture source: http://i1.tribune.com.pk/wp-content/uploads/2015/07/yellow-room.jpg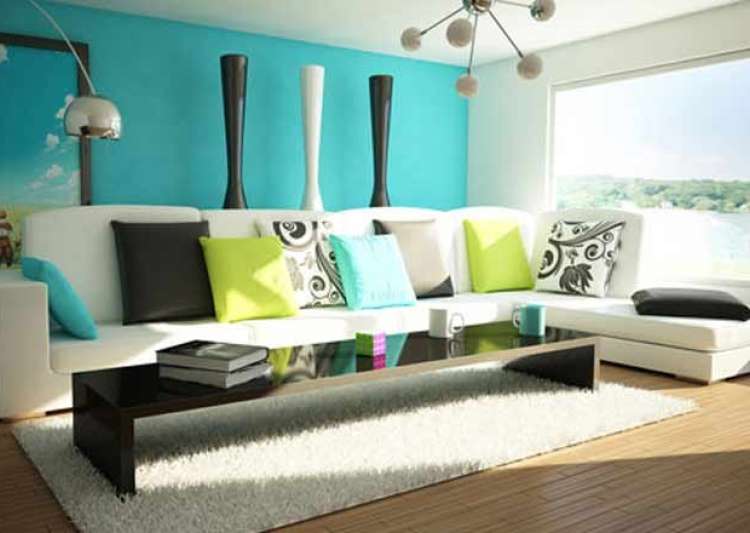 Pic source: http://resize0.indiatvnews.com/en/centered/oldbucket/750_533/lifestylelifestyle/IndiaTv13f046_monsoon-ready.jpg


Repainting metal frames of windows with waterproof paint is a good idea. It will help keep the rust away. You can also get the exterior as well as interior walls repainted with weather proof paint to avoid damage. This would be a good time to invest in some water resistant products, it will help fill up the pores and small gaps and prevent water seepage.


Check your electric connection. Make sure that there is not pending electrical work and that your connections are safe. They can be dangerous especially if there is dampness or seepage in your walls.
Place camphor or neem leaves in your cupboard to keep moisture away. This will also keep the bacteria and fungus away.
Don't forget the most important part, Roof! Be proactive and take care of the roof first. Do a thorough inspection and take care of all the small problem areas.
It is always a good idea to get professional help and get your house checked for cracks and problem areas. You can get in touch with
Dr. Fixit
who provide a team of dedicated technical experts for site inspection who compile timely solution and recommendation reports. Dr. Fixit also has trained applicators who are the ambassadors for good waterproofing workmanship. The continuous efforts taken by Dr. Fixit aim for a country/home free from dampness.
Have a look at their latest video featuring Mr.Amitabh Bachchan
Being ready before and after the monsoons is very important personally as well as keeping your home happy and healthy.